Using the power of super-heated air circulation, this air fryer surrounds your food on all sides cooking it fast and evenly using up to 90% less oil than traditional frying. With a 1700 watt heating element and adjustable fan speeds, use up to three racks to roast, bake, and cook your favorite meats, vegetables, and more to crispy perfection – all without the greasy guilt! Also included is a rotating basket that makes the perfect homemade or frozen french fries without the grease! Roast a whole chicken using the rotisserie assembly that rotates your bird and helps cook on all sides for delicious results. A digital touch screen interface gives you full control over the oven. Manually cook your own recipes using a timer that runs from 1-4 hours and select temperatures between 140 – 392°F. Or use our handy preset cooking modes that make your favorite dishes, including french fries, steaks, fish, shrimp, drumsticks, baking, rotisserie, and a low temperature dehydrating mode. With a quality build and cool-touch housing, this air frying own is built to last and can withstand temperatures beyond 500 degrees. Non-slip feet keep it firmly planted on your counter and it comes with an auto-shutoff feature. Use the oven light and viewing window to watch your cooking progress in real-time. What does an air fryer do? An air fryer is a must-have kitchen device that cooks fried foods like meats, pastries, potato chips, and even some desserts! Using super-heated air circulation, your food is cooked to perfection with a crunchy and crispy exterior – all without the need for excessive fatty oils. Is air-fried food healthy? If you're looking for a healthy alternative, most agree that air frying is a better method to cook than frying food in oil. On average, air frying cuts calories by 70 to 80 percent while also reducing the fat contents of food. Not only is food healthier, but it can taste even better without the heavy grease.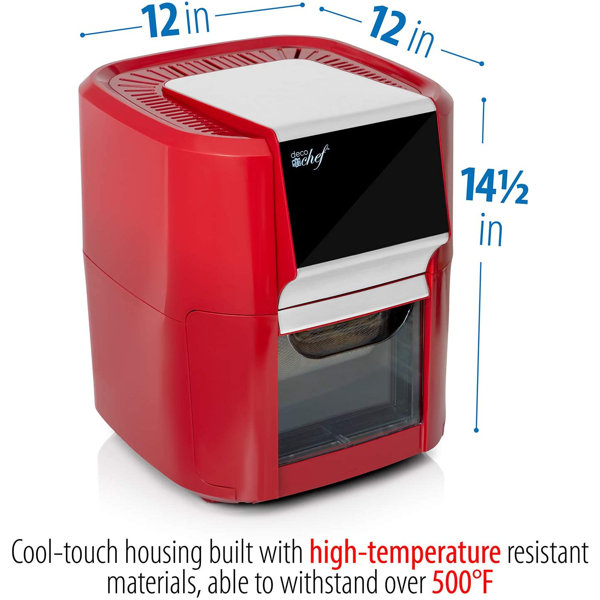 Overall
13.2" H x 12.8" W x 15.2" D
Overall Product Weight
22 lb.